Meet The Group
Below you'll find a short bio of each of the members of the Anderson lab.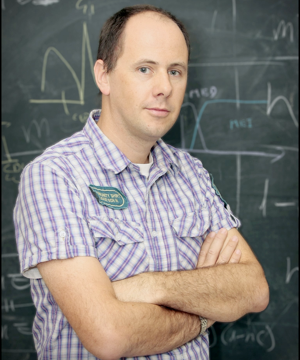 Alexander R. A. Anderson (PI)
Chair of the Integrated Mathematical Oncology (IMO) department and Senior member at Moffitt Cancer Center. Dr. Anderson performed his doctoral work on hybrid mathematical models of nematode movement in heterogeneous environments at the Scottish Crop Research Institute in Dundee, UK. His postdoctoral work was on hybrid models of tumor-induced angiogenesis with Prof. Mark Chaplain at Bath University, UK. He moved back to Dundee in 1996 where he worked for the next 12 years on developing mathematical models of many different aspects of tumor progression and treatment, including anti-angiogenesis, radiotherapy, tumor invasion, evolution of aggressive phenotypes and the role of the microenvironment. He is widely recognized as one of only a handful of mathematical oncologists that develop truly integrative models that directly impact upon biological experimentation. His pioneering work using evolutionary hybrid cellular automata models has led to new insights into the role of the tumor microenvironment in driving tumor progression. Due to his belief in the crucial role of mathematical models in cancer research he moved his group to the Moffitt Cancer Center in 2008 to establish the Integrated Mathematical Oncology department.
---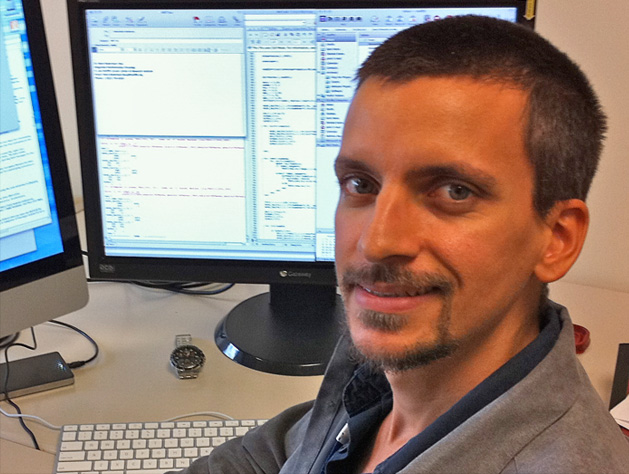 Mark Robertson-Tessi
Mark is a Research Scientist, who joined the lab in August 2010. Mark's research interests include tumor-immune interactions, angiogenesis, cellular invasion, and cellular metabolism. For his doctoral work at the University of Arizona with Alain Goriely (now at Oxford) and Ardith El-Kareh, he developed a continuous model of the interactions between T cells and a growing tumor. The model investigates the effects of immunosuppression, and the efficacy of the immune system during chemotherapy and various immunotherapies. His undergraduate work was in physics, mathematics, and astronomy. He joined the IMO department because of the rich opportunity for interdisciplinary work in oncology, and is eager to establish working relationships with colleagues in the experimental and clinical environments at Moffitt. His research at Moffitt includes using the window-chamber model to model and investigate the relationship of angiogenesis, tumor microenvironment and tumor invasion.
---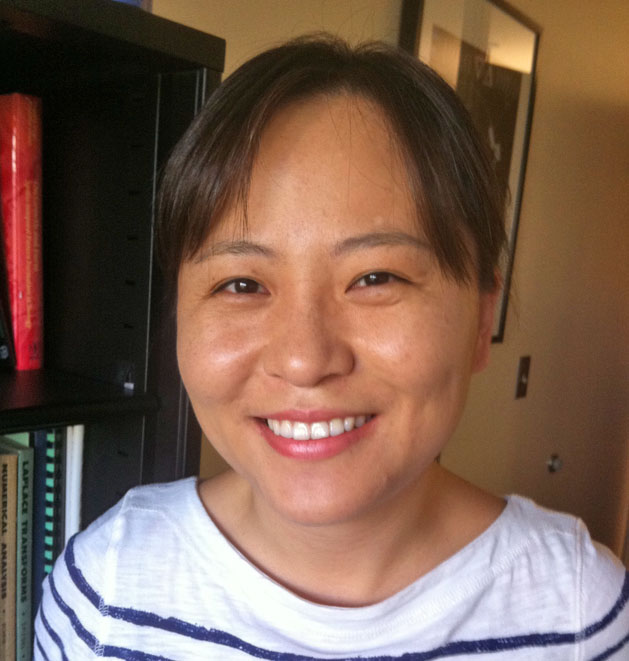 Eunjung Kim
Postdoctoral fellow, who joined the lab in September 2010. Eunjung originally came from S. Korea. She performed her doctoral work on soft tissue mechanics at North Carolina State University with Mansoor Haider, during which she developed continuous models to study the mechanics of cell/extracelluar matrix interactions. She also utilized optimization methods to determine the elastic properties of the matrix around the cells. After earning her PhD, she moved to University of Notre Dame, Indiana, where she worked on hybrid mathematical models of blood clot formation with Mark Alber and Zhilang Xu. She joined the IMO department in order to pursue her research interests in a more multidisciplinary environment. She appreciates the ample opportunities IMO offers to closely work with biologists. Her current research project involves modeling the multistep process of melanoma tumorigenesis, with a particular focus on the role of stromal cell aging and the malignant transformation of normal melanocytes.
---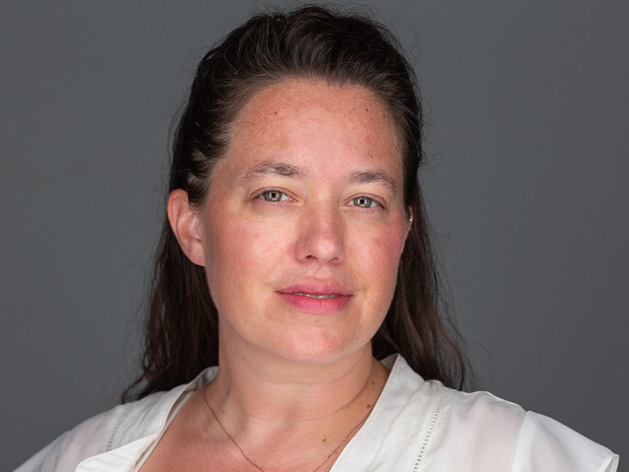 Jill A. Gallaher
Jill joined the lab in December 2010 as a postdoctoral fellow. She is excited about the opportunity to meet and form collaborations with other researchers and clinicians at Moffitt. She received an undergraduate degree in physics from the University of Missouri and a doctorate in biomedical physics from East Carolina University. For her thesis, she worked with Martin Bier studying ion traffic across cell membranes. The modeling of nonlinear phenomenon (i.e. phase transitions, hysteresis, noise) in the electrical properties of cells with various environments led to ideas about maintenance of cellular homeostasis. Now with a focus on cancer research, she's building an off-lattice cellular automata model to investigate the inheritance of phenotypic traits. Tumors are composed of phenotypically heterogeneous populations that compete for space and resources. Inheritance schemes can be tested by Investigating how the distribution of subpopulations change in a growing tumor over time. By also including repopulation after treatment into her model, the emergence and maintenance of drug resistance can be simulated.
---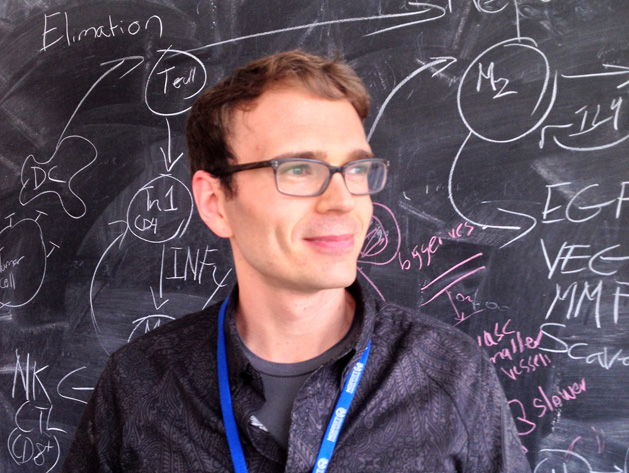 Chandler Gatenbee
Chandler received his Masters is Biological Anthropology at the University of Utah, followed by a Ph.D in Biology at the University of Louisville. He is a Research Scientist whose work is focused on tumor-immune eco-evolutionary dynamics. He uses population models, agent based models, and evolutionary game theory to study how tumors evolve the ability to escape immune predation, and the subsequent treatment implications. This is complemented by the development of tools to process and analyze histology. Ecological analyses can be conducted on the data collected by these tools, and the findings can be used to inform and verify modeling decisions and predictions, respectively. It is hoped that the integration of modeling and data will produce actionable insights that can be used treat, and ideally prevent, cancer.
---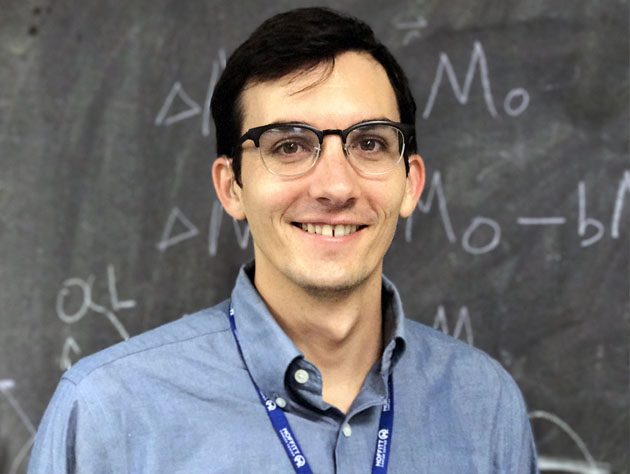 Jeffrey West
Jeffrey is a postdoc who joined the lab in August 2017. Trained as an engineer with his undergraduate degree from Ohio Northern University, he continued to study dynamical systems under his PhD advisor Paul Newton at the University of Southern California. During his PhD, he helped develop non-spatial game theoretic models of tumor progression and chemotherapeutic response as well as Markov chain models of tumor metastasis. During his time at Moffitt he hopes to continue developing game theory models with the goal of better understanding treatment implication from an evolutionary and ecological perspective in close collaboration with experimentalists and clinicians here.
---
---
---
---
---