Latest News
---

A big game theory welcome to our newest lab member Dr. Jeffrey West from the University of Southern California.
---
New paper in ALife, by Philip Gerlee and David Basanta: The Influence of Cellular Characteristics on the Evolution of Shape Homeostasis.
---

Welcome to our newest lab member Miss. Alexandra Ardasheva from the University of Oxford.
---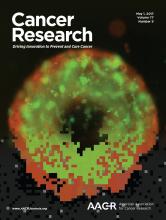 New paper on the cover of Cancer Research, with Bob Gatenby and colleagues on: Defining Cancer Subpopulations by Adaptive Strategies Rather Than Molecular Properties.
---

The Anderson Lab is part of the IMO visit the website to find out more.
---