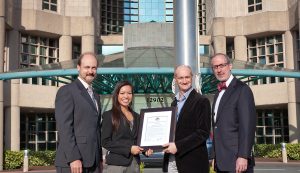 Graduate Student Receives JMNMF Research Scholar Award

The Joanna M. Nicolay Melanoma Foundation (JMNMF) presented Kim Paraiso with one of nine, nationally competitive, "Research Scholar Awards" (RSA). The $10,000 melanoma research grants support exceptional graduate students and provide recognition to their lab directors/PIs, schools, and cancer research institutions across the U.S.

According to Robert E. Nicolay, JMNMF Chairman, "Our Foundation's 'Research Scholar Awards' are invaluable at the grassroots level, to specifically grow interest in melanoma research, at qualified cancer centers across the country. If we can attract the brightest minds that are considering, or already within, the nation's cancer research pipelines, to pursue a career in melanoma research - we're that much closer to better understanding the disease, identifying the means for effective treatments and, most importantly, finding a cure for this deadly and very prevalent disease." Read more.

In addition to this honor, Ms. Paraiso's recent paper in Clinical Cancer Research was also featured in an editorial in the same journal of being "outstanding translational relevance".

PMID: 22351686 | PMID: 22442059

---
STARTUP CENTRAL


Networking and Educational Opportunities for Biotech Companies



Click here

to get updated on all upcoming events and deadlines.





From Left: Weihong Sun, M. Catherine Lee, MD,
Ya-Yu Tsai, PhD

M. Catherine Lee and Colleagues Receives GE award

GE and Partners announced yesterday the winners of their "HealthMagination Cancer Challenge." Dr. M. Catherine Lee and colleagues including Dr. Ya-Yu Tsai, and Weihong Sun were 1 of 5 teams chosen from over 500 applicants from 40 countries. In addition to the $100,000 award, GE will provide support for each winner through mentorship and access to GE researchers and industry thought leaders with opportunity for expanded partnership in the future.

Her team's project, "Identifying a Predisposition to Cancer Spread" aims to understand the genetic "modifier" genes and their role in predisposition to the spread of cancer to other parts of the body following cancer onset. This research could form the basis of diagnostic testing for genes that place a patient at disproportionate risk for cancer spread and guide aggressiveness of treatment.

GE Press Release | GE Healthmagination website


Research Roundtable - Timing is Everything: The Research Proposal Process

The Office of Sponsored Research (OSR) is hosting a roundtable discussion for research investigators on Wednesday, April 18 from 12:30 - 1:30 pm. While the focus is on our new investigators, all are welcome to this event.


The staff in OSR realizes that there are some Moffitt requirements and processes that are not well understood and thus can delay completion of proposals and subsequent submission.


This discussion will be a forum where these kinds of issues can be raised and discussed and clarified. If there is no clear resolution during this roundtable, OSR staff will explore the issue and inform researchers of the results.




All of the staff of OSR will be present, to address any issues or concerns that research investigators may have. This is also an opportunity to put a face on all of those emails!

Mark Your Calendars for 2012 Moffitt Scientific Symposium

Over 175 abstracts have been submitted for this year's event. The event will showcase the exciting research being conducted at the Cancer Center. There will be oral and poster presentations by Clinical Fellows, Postdoctoral Fellows, Residents, Graduate and Undergraduate Students. Four Junior Faculty members will be featured speakers. Watch for updates and the official agenda in the next few weeks.

The Scientific Symposium will end with a reception recognizing the 2011 Milestone Award recipients, Clinical and Research Mentors of the Year and the winners of the Oral and Poster Presentation of the day.

Contact Angela Reagan

or

Debbie Magley for more information.

Add to your calendar


National Functional Genomics Center Funding Opportunity

On behalf of Drs. Pledger and Chellappan, we are pleased to announce plans to award a limited number of NFGC Programmatic Research Grants to support collaborative, multiple investigator proposals. Translational research proposals that promote inter-programmatic collaborations and are multi-disciplinary will receive precedence. Use of the TCC database or tissue repository is strongly encouraged. The funded applications will be expected to lead to the submission of a P01, U54, or equivalent grant application to the NIH or an equivalent extramural funding agency within 6 months from the end date of the project.

The maximum for each award will be $150,000 direct costs and the funding period will be a maximum of one year.

Submission deadline is Monday, April 30, 2012 at 4:00 PM. A copy of the guidelines is attached. Please contact Rae Reuille via email at rae.reuille@moffitt.org for an application and instructions. The anticipated start date is June 1, 2012, provided all regulatory approvals are in place.

Miles for Moffitt Annual "Milestone Awards" Funding Opportunity


On behalf of Dr. Sellers and the Research Executive Committee, we are pleased to announce a revised funding opportunity for the Annual Miles for Moffitt "Milestone Awards". The selection committee along with a representative from Miles for Moffitt will recognize four outstanding scientists in two categories: Established Moffitt Investigators and Moffitt Junior Faculty. The maximum award amount is up to $40,000 for 12 months. The project should aim to produce preliminary data that will lead to a peer reviewed funding and also propose new research that does not overlap with projects already underway. This opportunity is competitive and requires the submission of a brief proposal consisting of:

A two-page description of your research project that includes your goal and project aims and how you plan to spend the funds within the 12 month period. (Funds cannot cover faculty salaries but can be used for research supplies, minor equipment and salary support of lab staff (e.g., graduate students and postdocs).

Your biosketch that includes a list of pending and funded grants.




Submission deadline is Monday, April 16th at 4:00pm. Please submit your proposal and biosketch to Maureen Ahearn via email at maureen.ahearn@moffitt.org. Awardees will be announced at the May 10th Scientific Symposium.






Anna Valentine Cancer Fund (FIG) Funding Opportunity


Moffitt Cancer Center, through funds established by the Anna Valentine Cancer fund and the NCI Cancer Center Support Grant, invites Moffitt investigators to apply for a Team Science Pilot Project to develop a SPORE, collaborative R01 and P01 application within eighteen months of the award date. The maximum award amount is up to $75,000 for 12 months.


Proposal Guidelines | Proposal Application



Submission deadline is Monday May 2, 4:00 pm.

For additional information contact: Maureen Ahearn at x8824 or maureen.ahearn@moffitt.org.
---
Lab 360: Research Laboratory Environment Updates




















MRC DI H2O Suspended April 6-7 for Maintenance

MRC Faculty and Staff:
DIH2O to MRC Annex, MRC 3 Main and MRC 4 Main labs will be suspended starting Friday April 6 at 5:00 pm through Saturday, April 7 at 6:00 pm for maintenance. Please plan accordingly. thank you for your cooperation.

Shared Resources Open House - April 5, 2012

Come learn about Moffitt Shared Resources, meet the staff & pick-up some valuable information too. Join us on April 5, 2012 between 1:00 - 3:00 pm in the SRB Atrium. Light refreshments will be served. Contact: Christine O'Connell (christine.oconnell@moffitt.org)

.

Reagent Program Inventory Close-Out Sale

April 5th & 6th, contact Kathy Merkler x6749

The Reagent Program has certain inventory items left in stock that need to be sold. Items will be sold on a first come basis. Orders for these items will be taken at the Shared Resources Open House on Thursday, April 5th. Please remember to bring an active grant or support account number so Purchasing can charge the items. Please see the list of available items and pricing. The Reagent office will be open April 6th from 10-12 am and 1:30-3:00 pm for order pick up.
April 6 - Defense of a Doctoral Dissertation, Contact: Cathy Gaffney, x6768.
Nicole Fortenbery, Candidate for the PhD degree in Cancer Biology, Mentored by Dr. Sheng Wei, Moffitt Cancer Center and Research Institute, Tampa, FL
Regulation of Natural Killer Cells: SHIP-1, 2B-4, and Immunomodulation by Lenalidomide
9:00 am Stabile Research Building, David Murphey Conference Room

Add to Calendar


April 6 - Moffitt Grand Rounds, Contact: Sheila Findley, x2286.
Robert H. Wiltrout, PhD, Director, Center for Cancer Research (CCR), CCR Director for Basic Science, NCI, Bethesda, MD
Oncogene-driven Mouse Liver Cancer Can be Differently Influenced by Immune Mechanisms
12:00 - 1:00pm Stabile Research Building, Ted & Marty Couch Auditorium


Add to Calendar

April 6 - Roche Nimblegen Educational Seminar, Contact: Sean Yoder, x1917.
Michael Jansen, PhD
Targeting Resequencing With Exome and Custom Sequence Capture: Focusing on the amount of coverage needed and other considerations for a successful project
3:00 - 4:00pm Stabile Research Building, Ted & Marty Couch Auditorium

Add to Calendar


April 12 - SPORE Lung Cancer Comprehensive Research Center Seminar, Contact Carol Ulge, x3886

Kwok-Kin Wong, MD, PhD, Associate Professor, Harvard Medical School; Dana Farber Medical Center, Boston, MA

Mechanistic, Preclinical and Co- clinical studies with Genetically Engineered Mouse lung Cancer Models

11:00 - 12:00 noon, Stabile Research Building, David Murphey Conference Room

April 12 - Cancer Biology Student Seminar Series, Contact: Cathy Gaffney, x6768.
Crystina Bronk, Cancer Biology Graduate Student, Mentored by Dr. Amer Beg, Moffitt Cancer Center and Research Institute, Tampa, FL
Exploring PKC

Q

Dependent and Independent Mechanisms in T- cell Activation
4:00 - 5:00pm Stabile Research Building, David Murphey Conference Room

Add to Calendar


(NEW)

April 13 - Moffitt Grand Rounds, Contact: Sheila Findley, x2286.
National Minority Cancer Awareness Week Speaker
Jasjit S. Ahuwalia, MD, MPH, MS, Executive Director, Center of Health Equity, Associate Director, Clinical Translational Science Institute, Professor, Department of Medicine, University of Minnesota Medical School and School of Public Health, Minneapolis, MN
Tobacco Dependence and Smoking Cessation in African Americans: A Health Equity Research Program
12:00 - 1:00pm Stabile Research Building, Ted & Marty Couch Auditorium


Add to Calendar


(NEW)

April 17 - Moffitt Grand Rounds, Contact: Sheila Findley, x2286.
Karolin Luger, PhD, University Distinguished Professor, Howard Hughes Medical Institute Investigator, Colorado State University, Ft. Collins, CO
Multidisciplinary Approaches to Study Nucleosome Structure and Assembly
12:00 - 1:00pm Stabile Research Building, Ted & Marty Couch Auditorium

Add to Calendar

April 26 - Cancer Biology Student Seminar Series, Contact: Cathy Gaffney, x6768.
Jessica McDaniel, Cancer Biology Graduate Student, Mentored by Dr. PK Burnette, Moffitt Cancer Center and Research Institute, Tampa, FL
Lenalidomide targets the T cell co-stimulatory pathway to mediate immune modulation
4:00 - 5:00pm Stabile Research Building, David Murphey Conference Room

Add to Calendar



(NEW)

May 4 - Moffitt Grand Rounds, Contact: Sheila Findley, x2286.
Raj K. Puri, PhD, MD, Director, Divison of Cellular and Gene Therapies, Office of Cellular, Tissue and Gene Therapies, Center for Biologics Evaluation and Research FDA, Bethesda, MD
Targeting Cytokine Recepters for Cancer Therapy
12:00 - 1:00pm Stabile Research Building, Ted & Marty Couch Auditorium

Add to Calendar


(NEW)

May 11 - Moffitt Grand Rounds, Contact: Sheila Findley, x2286.
David Wetter, PhD, MS, Professor and Chair Cullen Trust for Health Care Chair, Department of Health Disparities Research, UT MD Anderson Cancer Center, Houston, TX
Socioeconomics Status and Tobacco Related Disparities
12:00 - 1:00pm Stabile Research Building, Ted & Marty Couch Auditorium

Add to Calendar